Oct 30, 2004
423
1,454
🥇 Banner finds
Detector(s) used

Garrett AT Pro, Garrett AT Max, Equinox 800
There is a small 15 acre ranch right down the road from me (less than a mile) that I detected pretty hard 8 years ago. There was one corner area loaded with iron that I avoided. I decided to go back with a new machine (Equinox 800) and a positive attitude aided by the fact that this place is only a 2 minute drive from my house. Eight years ago I pulled out several seated coins and a number of relics. It's an active ranch with horses, cows (no bull thank god!) and sheep all nicely separated from each other. Now to brave the junky area. Maybe it was a dump or someones iron hoard. Anyway I hunted with 5 gallon buckets nearby in an attempt to thin out the iron a bit. Here is a days work on the iron front:
I've had several friends saying it's just not worth digging all that. I don't mind and did I mention it's only a 2 minute drive from my house? Ha!
I did find a 1912S wheat and one nice silver 1897S barber: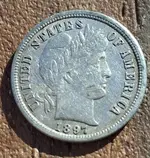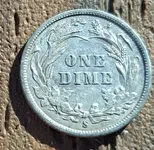 Also found an interesting brass grommet with a Aug 26 1884 patent date with a No. 3 on it. Maybe used on a flag??
Also found a newer (probably 1990's) high-end knife that will be fun to work on:

There is still a ton of iron in that corner. Would you go back or spend time trying to find greener (and cleaner) pastures?