Jul 27, 2014
3,719
9,362
🥇 Banner finds
Detector(s) used

Minelab Excalibur II, Ace 250
Primary Interest:

All Treasure Hunting
Went on a big adventure today in a muddy swamp. Five hours of constant walking, all mud, all new, likely never hunted by anyone before. The results, a couple hundred dollars in rare bottles including an original Shell Motor Oil, three late 19th C. blob tops - small, medium, and large, and two early 20th C. milks.
From left to right: Willow Brook Dairy, Reid's Union Dairy Ice Cream Corp., Shell Motor Oil, G. Wm. Meyer, August Bay Bottling Co., and the mini Blob is from the Union Bottling Company "UBC".
Blob bottles in situ:
Bottom embossing of mini blob: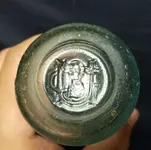 The mini blob has no embossing on the sides but it does have a three-letter "UBC" logo on the bottom. Took an educated guess that "BC" stood for Bottling Company and what else could "U" be but Union - and that's what it turned out to be - the Union Bottling Company. Cross referenced the logo with the logo of the company and it was a match. Found their address, years of operation (1873-1904), as well as this newspaper ad from the 1870's:

Shell Motor Oil:
In situ:
The oil bottle was the first find of the day, and the good finds only continued from there.