Gold Member

Jun 12, 2006
18,068
9,519
🥇 Banner finds
🏆 Honorable Mentions:
Detector(s) used

Fisher F75, Whites DualField PI, Fisher 1266-X and Tesoro Silver uMax
Primary Interest:

All Treasure Hunting
Hello All,
Some of you may recall that I dug a class ring back in January. Here are two photos of the ring, along with a link to the post: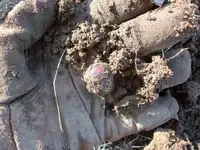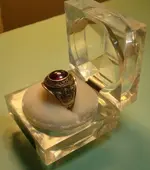 Found GOLD for the first time in Years
I have been trying to track down the owner for almost four months now, and hit several dead ends. The high school had no yearbook in their library for that year (1962), nor did the historical society, nor the local library.

I had knocked on a few doors and talked with some folks who graduated around the same time with no success.
Finally, yesterday, I talked to the right person--who made a phone call for me to a guy he thought had graduated around the same time. He asked the guy if he knew who might have a '62 yearbook--and the guy said "I have one--that's my graduation year."
Then he asked if the guy knew who had the first and last initials on the ring from that class. He said "That's my wife's initials!" and proceeded to describe the place where the ring was lost, right down to the property owner's name where I found the ring.

We agreed to meet right then, and when I came into his office he had a copy of the high school yearbook to show us--with photos of him and his wife from the graduating class of 1962. There were 24 seniors that year.
Her daddy had bought the ring in 1960 for $25, and they had exchanged rings as high school sweethearts. He wore her ring on his pinky finger and she wrapped leather around his and wore it on her ring finger. After he lost the ring, he had to save up and buy her a replacement ring to appease her father. He later married her, but he never forgot the loss of her original ring.
Tears came to his eyes as he described the loss of the ring: They had planned a hay ride for her 17th birthday, and one of the kids fathers had just pulled into the driveway at the house in a brand new blue Ford hard top convertible. He and some others were doing cartwheels and sommersaults, and the ring fell off in the yard--where it would rest patiently for half a century waiting for me to find it.

He put the ring on his pinky finger again.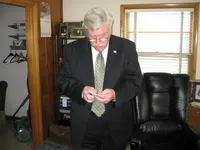 He opened up the 1962 yearbook again to a page that simply said "Seniors," where there was a photo of a man's and a woman's hand. "This photo is mine and my wife's hands" he said. On her finger in the photo is ring that I dug.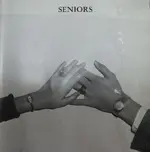 Best Wishes,
Buckles
Last edited: