Apr 19, 2019
1
0
Primary Interest:

All Treasure Hunting
Found these two rocks today!
This first one is just a normale quartz rock but I thought the way to quartz looked was really neat. It reminds me of a black & white tree frond. And on the other side is a swirl pattern.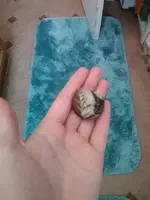 But the coolest find was this one! It looks to have an extremely clear white agat or something embedded into it.(First image) With another cracked one near the bottom. (Second photo inside that crevice) All the other spots almost look like petrified wood(?). Whatever it is, its super cool.