Jul 8, 2007
3,696
4,078
🏆 Honorable Mentions:
Detector(s) used

Extended Sensory Perception, L-rod, Y-rod, pendulum, angle rods, wand.
White's MXT, Garrett Ultra GTA 500, AT Gold, SCUBA Detector Pro Headhunter, Tesoro Sidewinder, Stingray, 2 box-TF900, Fisher TW-6
Primary Interest:

All Treasure Hunting
I've had an interesting and busy late fall in the Detroit area this year.
I received a call from the pictured young gentleman inquiring if I could find a lost ring in the snow. He is from Cali and was visiting a friend here and upon getting back to the friend's place this beautiful silver ring slipped off his finger while walking up to the residence.
The ring was his mother's who passed away a year ago and he was feeling overwhelmed about it being lost.
I set up the MXT and began the typical grid search in the area he felt most likely it was.
So as he went to run an errand I was left to search on my own and I dug up a piece of non ferrous junk that read as a ring but the sound was choppy from different directions, but I dug it up to get it out of my way.
A few more sweeps and a 1 cent 90's read came thru loud and clear in about 5" of snow.
He hadn't returned yet so I went to warm up in the van with the ring.
When he returned I got out and as we walked to the area he kept asking did you find it? did you find it? and I was trying to keep a straight face as he reminded me of myself and the kids who are asking on road trips are we there yet ? are we there yet? So I said with a sad expression.. man I've been really bustin' a move on finding your ring but.... as I shook his hand the ring transferred over to his and he about fell over with excitement clutching the ring close to his heart and smiling as he looked to the sky.....sensing his mothers happiness! and thanking me for making his Christmas memorable!
Jon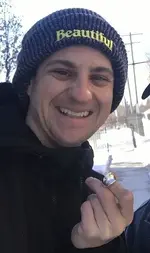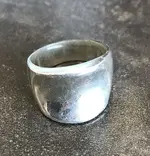 Last edited by a moderator: