I managed to get back to the site of the late 1800's inn this weekend. It was obvious that the coinhunters who also know about the site have been
very
busy, as there were precious few high tones left. Oh well, that will teach me to have a day job...
I did manage to find a host of relics, spanning a time frame from the late 1800's through the 1940's. Below is a pic of all of the keepers, with some of the individual finds described with photos following them.
All of the keepers:
The spoons were all plated at some time, and the makers marks were (in descending order in the picture): "Others", "Rogers Nickel Silver", and "1877 Niagra Falls Silver Co.". The shotgun shells ranged from the 1870's through the 1920's, based on the headstamps.
Here is my first accordion reed (no date range known):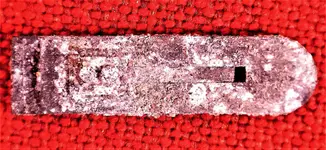 Here is a live 1918 Peter's Cartridge Company .45 round: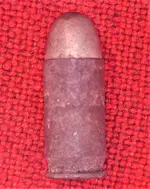 A UMC Co. .45 Colt shell (late 1800's):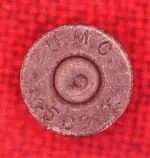 A garter or stocking clip, and a suspender clip marked "Nu-Way Patented":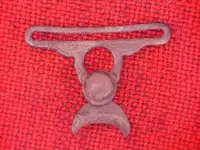 A Mary Dunhill (circa 1941) lipstick tube, with personalized owner's initials of "MV". The patent for attaching the initials on the exterior of Mary Dunhill cosmetics was approved in 1941, and I've attached an advertisement for it I found online below, along with pics of the tube as found and cleaned via electrolysis and a baking-soda/toothbrush scrubbing: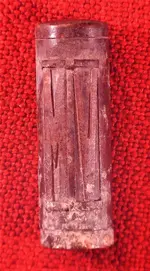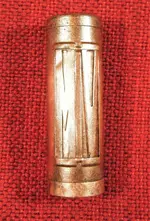 A Silver Slipper Supper Club membership pin (with the soldered pin missing). From online info that I found, this was a social or nightclub of some kind in the mid-1920's in San Antonio, Texas: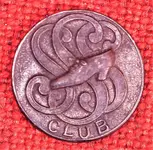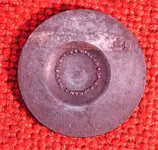 My only coin find was also the oldest Lincoln wheat cent I have found, to date. It's a 1918 in fairly rough shape:
My best find this go round, though, was a Martin Van Buren presidential token manufactured by the Scovil metals company sometime around the turn of the century. When I found it, I assumed it was a Shell Oil promotional token from the late 1960's, and I didn't think much of it. Once I got it home and researched it, I discovered it's actually somewhat rare, with a rating of 93 out of 100 on one of the online token databases. (Apparently there are two versions of this token, with the type I found being more difficult to find. There are two tokens like this currently on eBay, with asking prices of $120 and $129!):
As always, thanks for taking the time to browse this post, and may your next hunt bring you joy!
Merry Christmas!