Hero Member

Jan 27, 2015
818
2,671
🏆 Honorable Mentions:
Detector(s) used

Minelab Equinox 800
XP Deus
Primary Interest:

Metal Detecting
Hi everyone. Sorry in advance for this longer story. Feel free to skip to "The Finds" and the pictures.
SlateBeltDigger (SBD) and I got out and detected together three times this past week; he was taking a vacation week and I'm in the middle of a job change, so it was a good time for both of us to be out digging. We hit three different locations in an area roughly between us (we live maybe 90 minutes apart). SBD discovered the first two locations through research; hats off to him for finding these!
The first location was where I found
http://www.treasurenet.com/forums/t...ting-tombac-button-concave-new-farm-site.html
. That location was an old farm but is now a preserve/park owned by the local government.
At the second location - another farm that's owned and preserved by the local government - SBD had previously found a very toasty large copper, probably a KG1. On the day we detected together he found a very large dandy button in the same area where the copper was found. My day was a bust, but I still love the potential of the location. The fields are overgrown and the digging was hard, so I feel we should hit it again in the winter. (I don't have pics of SBD's finds, but maybe he can add them).
Yesterday's location was a permission I gained after doing further research on the area where the first two sites are located. Between them on the area's 1850s map is one of those intersections that looked like it would have a lot of activity back in the day. In addition to a nearby school house (SH) and Blacksmith's shop (B.Shop) there was a "Store" shown on the map. I included a screen shot of the map with the names redacted; sorry about that, but I'm sure you understand.
Today there is a farm where that General Store once stood, and while the farm didn't have a website it was listed on Facebook, so I took a chance and messaged them.
People often ask on here how others get permissions. In this instance I said:
"Hello _____ Family! Your farm looks beautiful and is in a really interesting historical location. I'm an avid metal detectorist and I'm wondering if you have ever allowed someone to detect at your farm? I have detected at (another local family owned farm) here in (my town) and I gave them everything I found, which included about a half-dozen coins from the 1700's. If you'd be open to me visiting please let me know!"
The owner messaged back, "Yeah you can anytime. We usually find arrowheads" Bingo, I was in!
SBD and I stopped by and introduced ourselves the next day, and I learned that the General Store had been moved away from the road (and sadly the original site was now under new pavement) and that there were actually multiple family-owned homes on the property. The owner told us we could detect anywhere we wanted, and to come back any time we wanted - amazing!
Yesterday SBD and I spent our time in the area of the General Store and one of the homes that was built in the late 1800's. SBD has an Equinox and I started out using my Equinox also, but I decided that the Deus might work better since it was one of those "machine gun" locations (many, many signals close together). Changing to the Deus paid off and most of my finds were made with it. SBD found a very nice necklace pendant with his Equinox though.
As for my finds, here they are:
I wasn't sure the buckle I found was a colonial-era shoe buckle frame, but SBD made me laugh when he said, "Dude it's a really old shoe buckle, stop doubting that". I'm excited that it's intact as I've never found one like this (I'd only found broken pieces in the past).

The "dandy" button is also cool since it looks like the etching was done by hand.

I'm really excited about the two Indian Head Cents, mainly because I didn't ruin them when I was trying to restore them. The 1859 came out amazing.

In the top row of the group picture is a "toe tap" (shoe wear protector); that's the first one I've ever found, though I know they're common finds.

In the lower left of the group shot is a piece of a broken aluminum horseshoe. I was generally aware those existed, and it's probably not old, but it's the first I've found of those.
I can't wait to go back to this location! And I thank SBD for getting me to think beyond the boundaries of my town.
- Brian
Group shot: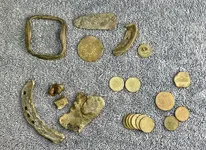 The map: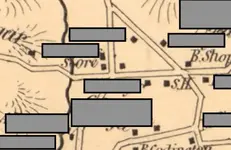 Shoe buckle frame (cleaned lightly with Dremmel, Renaissance wax applied):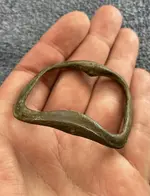 Dandy button:
1859 Indian Head Cent: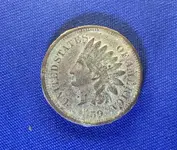 1861 Indian Head Cent: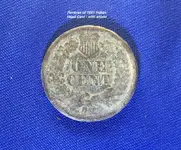 Aluminum horse shoe (broken piece):