Feb 8, 2017
100
164
Detector(s) used

CTX-3030
Primary Interest:

All Treasure Hunting
Hello all. Beautiful day here in the south. 35 degrees and sunny. Got a bit of rain so digging has been easier and I decided to give our field a visit today.
Found two buttons. One is a Virginia button. I believe its a EARLY VIRGINIA VA-2D "Sword Up" variant made by Young Smith & Co New York. Virginia button, state seal Virtus slaying the tyrant with sword up, low convex one piece, Young Smith New York with stars dividing, rm between two rings with inner graphic border, (21.7mm) (<<From the internet).
Being from Virginia I thought it was a pretty cool find. I have no idea the date / time period of this thing or if it is worth anything but it was fun finding it. I Just let water run over it because I didn't want to ruin any of the detail.
The other button, well, I have no clue what it is.
There are no back marks and nothing on the front. It came out of the ground all shiny, didn't even have to wash it off. Not sure of the type of button and figured I would post it here with today's finds.
Thanks for looking and HH!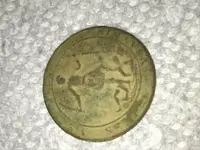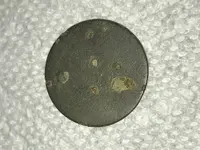 Last edited: