Jul 11, 2009
617
843
Detector(s) used

Bandido 2 - umax, Garrett Ace 400, Garrett AT Pro, Garrett AT Pinpointer
Primary Interest:

All Treasure Hunting
Howdy Folks, It's been a while since my last post so I figured I put something together. The summer started out hot but has cooled down nicely. We got some nice showers and that brought much-needed relief for digging. I had a couple permissions in the city. One house built 1880 and the other 1885. I left the properties with clad, kid you not. I was finding quarters and dimes, none were silver. Finding myself in a silver draught, I knew something had to be done. So off to the spoon woods I went. Ended the draught by digging a 1919 mercury. I then got a permission in a hay field where a house once was. I walked out of there with a fired musket ball. Since then I've stuck to the city. Hitting some curb strips and landing some more permissions is where I'm at now. With that being said, I'll let the pictures tell the rest of the story.
Silver dimes, wheat cents, dollar coin and play money that made my heart skip a couple beats.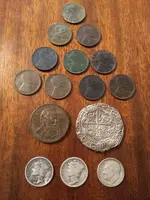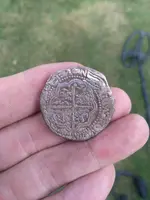 Small sterling ring, a copper ring, Indy 500 souvenir ring and costume jewelry.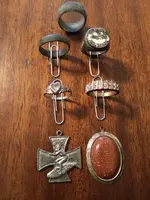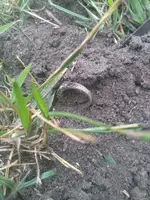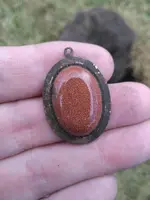 Tokens and compacts. Lucky coin token(minus the coin)was from a jewelry store in Gary, IN. An empty lot now. Pint milk token, can't make out the name.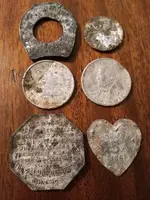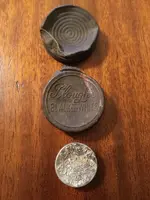 Tootsie toys, Green semi is a Barclay-first for me, Lead Indian and a bronze miniature cold painted pug-first also.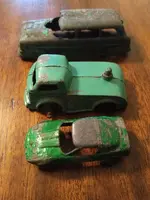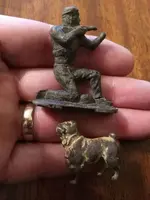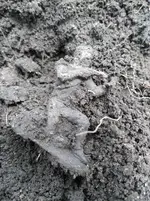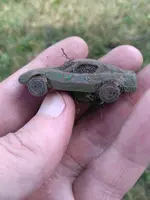 Hem weights, suspender clip, 1906 dog tag and other things. Long cylinder item has writing but can only make out dates. April 11 1906-Sept 5 1916. Maybe a valve stem cover?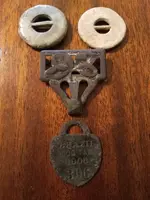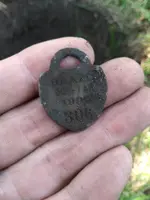 Last is an award that will go to an uncle of mine because he has got some stories.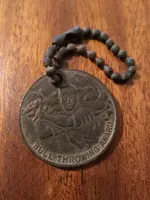 Thanks for looking and wish all of you the best of luck. SD