Jul 11, 2009
617
843
Detector(s) used

Bandido 2 - umax, Garrett Ace 400, Garrett AT Pro, Garrett AT Pinpointer
Primary Interest:

All Treasure Hunting
Howdy Folks, it's been a while since my last post. As the title states, all I have been finding is wheat cents. I couldn't get my coil over a piece of silver for nothing. I didn't work the city as much this year. The places I was getting into wasn't producing anything worth noting. I guess I got tired of digging so much trash with no good results. Farmers started harvesting the fields and I was getting into any one of them that I could. Finding LC's and IHC's sure made me feel a lot better.


So I'm going to start out with my hunts from the last couple weeks. I caught up with one of the farmers who has given me permission to all of his fields. He told me of a field that he leases from the owner and there use to be a big house and barn on the property. Long gone before his time and he's in his 60's. He told me where in the field and so I got started. I started gridding the area and wasn't finding much other than trash. I then moved to a different part of the field finding more trash. I then got a nice 84 on the VDI and popped the plug. Still, in the hole, it was now an 87 and not sounding so good. It was a small lid with a pull tab top. Moving along I kept getting 82 and 84 signals which turned out to be trash and more slaw. I got another 84 VDI and popped the plug. It's in the plug and now reading 82 with a trashy sound to it. Thinking more can slaw. I flung the shovel from over my shoulder to flatten the plug. As I hit it, I saw a little round piece of silver come out of the plug and plop back into the hole. Looking down into the hole and seeing it, I thought finally. Turns out to be Seated Dime. Looked at the date and couldn't believe it. I have found four Seated Dimes thus to date. Three out of the four are dated 1877. It just seems odd to me. It started getting dark. I was making my way back to the car. Got a solid tone and plucked a lead seal, with no markings, out of the hole. The next day I had a couple hours to hunt. I made my way back to a field where I've found Minnie Balls. I dug a little deeper into the history of the area and I think this was a Civil War Training Camp. I found a handful of them and then it got quiet. I was happy with what I found but have yet to find anything other than Minnie Balls. No buttons or anything else of the time period. A couple of the pistol bullets look old because the lead looks the same as the Minnie Balls. The next weekend I got out on a Sunday. It was windy and I chose to make my way out to some woods. I dug a handful of brass headstamps this day. Kept hoping for a nickel but it wasn't meant to be. Once again I got a nice 84 on the VDI. Popped the plug and it was now reading 82 in the hole. Loosened up the dirt and fished out a 1947 Roosevelt. Not much after that other than a neat button. If I was to guess I would say early 1900's. So that's it for the last couple hunts. I will put up some pictures. Some of them being from hunts over the last couple of months.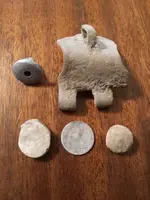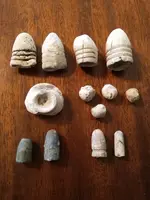 Marion Steam Co. watch fob that has been shot, Brass Spigot. 1959 Falstaff Beer Cardinals & Bears schedule token.Small bottle dump in woods.1872 tag?Pocket watch.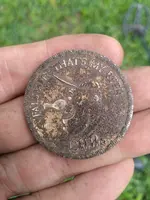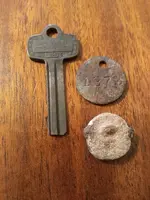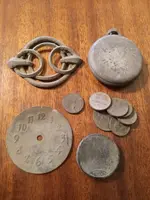 First cow tag, an old key, brass thimble, IHC's, buttons. 3rd LC, 1949 Italian coin, wheats, and a Buffalo. Trigger guard, I think a watch fob, 1953 dog tax tag. 4th LC, wheat cent, brass knuckles found close to each other.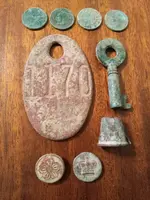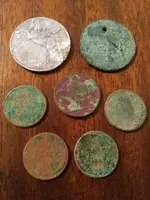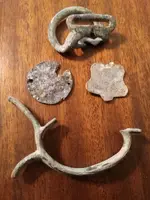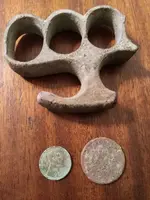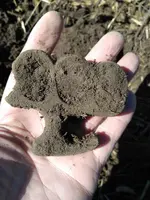 Great Seal Coat and Cuff button. Wheat's and No Cash Tokens. Buckles, buttons, suspender clip.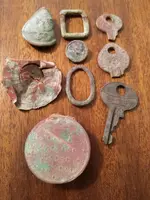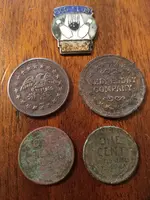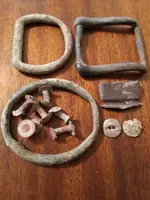 Thanks for looking. I wish everybody a Merry Christmas and a Happy Hunting New Year. SD