Sep 26, 2014
2,521
3,118
🥇 Banner finds
Detector(s) used

XP Deus; Minelab E-Trac; Son (Wyatt) uses XP Deus!
Primary Interest:

All Treasure Hunting
The last few months have been busy around here and not much time spent here. Son is back in school and my buddy just retired, so I'm left at work, with a lot of OT lately....YUCK!!!
Anyway. My buddy and I got out at least this weekend the day before deer season and he has the new HF coil for his Dues. Wanted to give it a try in the old ghost town around the depot area. About two months ago, my kid; who started us on the "dig out" of the depot, found his first gold. It was about a foot down and were thinking he found it because of the Barber Half signal he had gotten first. Barber was a 1912-S. Re-check the hole and a nice solid signal is still there. After some more digging he popped out the 2 1/2 Indian (1910). First Indian gold for any of us who all hunt together.
So back to the other day. Our buddy hasn't gotten out much with the new coil so were working together to see how he likes it. I have my Deus with he normal large coil. He gets a nice looking 1908 V Nickel first which was surrounded by metal and trash. He was happy with that and the fact the little HF coil makes it easy getting under the sage brush,
Then we start following the old RR grade. He continues and I move away to an old hotel site. After 30 or so, I hear him calling my name. I take off the headphones and turn around to see this "grown man" jumping up and down as if he had won the lottery. Gloves, headphones and his sunglasses flying in the air. I think he must have found another $20 and yell over........He said no but's it gold. Of course I tell him not to touch it till I get there....
I make my way over and immediately see the gold lying face up. All I can say is "Are you kidding me?" Another Indian

? Come'on man!!!!!! Since getting our Deus machines between the three of us, this is our 4th gold in just over a year!!! Needles to say, I guess he's happy with his new coil. I was happy to just have an 07-V Nickel for the day!!!

Of note; we have probably walked over this signal numerous times since on our old machines it would have come up as the same reading as a shell casing does for our area. Since we have started digging "ALL SIGNALS", this has been the results. Enjoy the photos and be safe out there.....
Nate's 1908 $5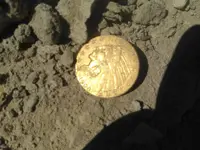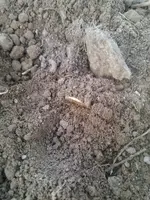 My son with his first gold. $2 1/2 !!!!!!!
By the amount of rocks we have had to move digging out the depot area, I might have to start our own gravel pit