What I have is smooth slab colonial copper with almost perfectly aligned clay pipes in a circle. I'll assume they used large coppers, ground them smooth, and then added these 5 pipes. If interested
in further info - look here:
https://www.academia.edu/10032294/PAS_Roundup_2012
page 394-5
Figure 10
"Bradfield, West Berkshire
(PAS database SUR-CD7612; finder Andy Thompson; identification and recording David Williams, Surrey FLO, and David Higgins, clay pipe specialist).Token made from a copper-alloy halfpenny of George I (r. 1714–27) or George II (r. 1727–60), which has been worn smooth and then stamped with various symbols on both surfaces (Fig. 10).
One face shows three (clay) tobacco pipes of vary-ing forms;
the letter D; a quadrilateral; a rod with star; and a rod with trefoil. The other face shows a rod with star, similar to that on the other face. Dimensions: diameter 28.19mm; weight 6.67g. Given the symbols used and the fact that the object is not made from precious metal, it seems likely it was counter-stamped for use by a mer-chant, perhaps for advertising purposes. No other tokens with clay pipe motifs are recorded on the PAS database, but other examples are known, including tokens stamped with the name of the merchant.
20
Other motifs are found on PAS-recorded Georgian coins, such as the alchemical symbol for mercury, floral/sun motif and letters.
21
It seems 1797 pennies and halfpennies were favou-rite coins to countermark, though these are usually found extremely worn, suggesting they were either deliberately smoothed to countermark or counter-marking took place at a later date on an issue of prolonged circulation."

Then there is a coin showing clay pipe countermarks here: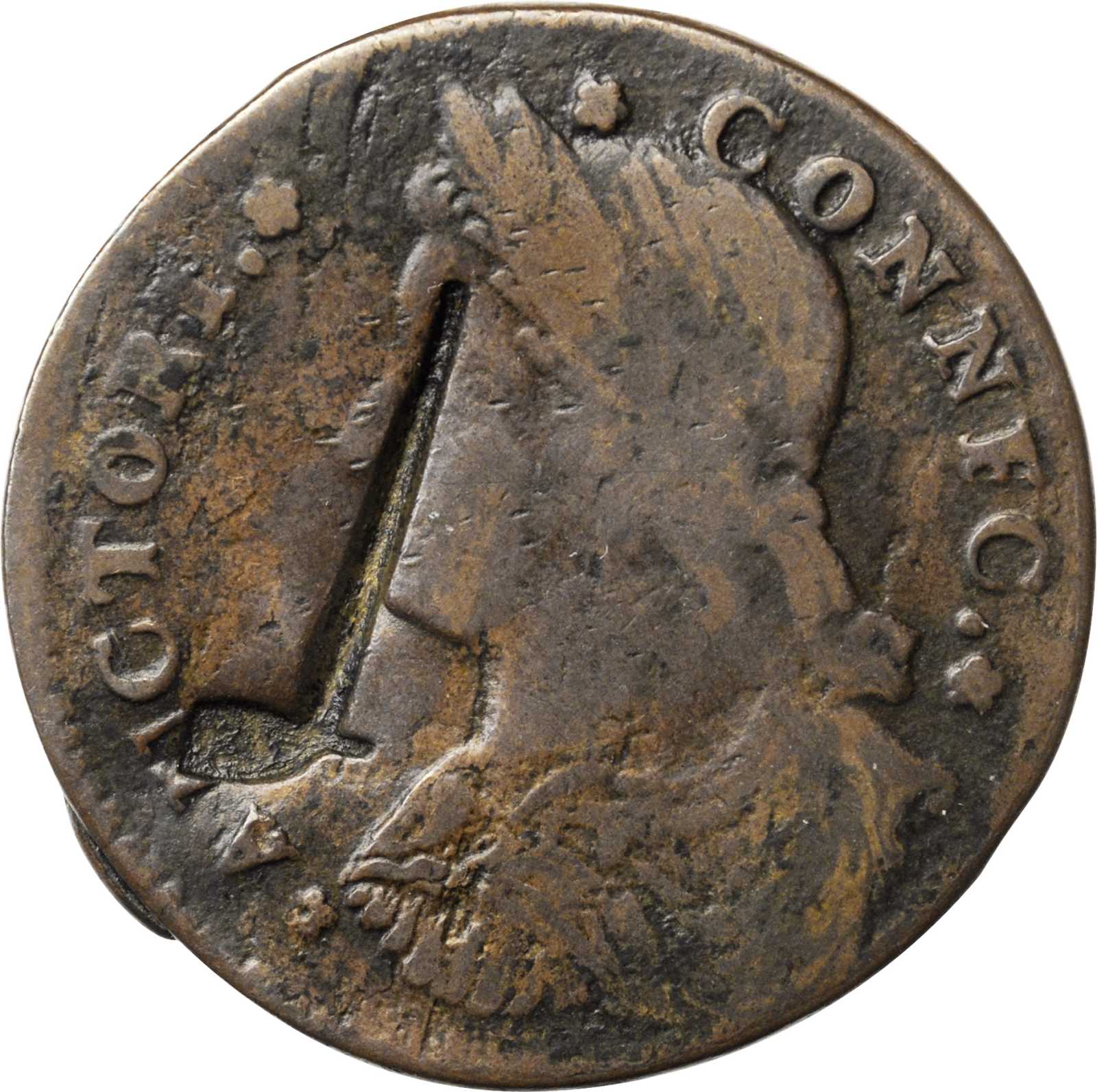 <b>1787 Connecticut Copper. Miller 43.1-Y, W-4250. Rarity-2. Draped Bust Left, CONNFC—Clay Pipe Counterstamp. Brunk ETC-24—Fine-15 (PCGS).</b><br><br>130.0 grains. A marvelous counterstamp of a long clay pipe is deeply impressed in left obverse field, the stem obliterating obverse effigy's face...
auctions.stacksbowers.com
This was found outside Phila., Pa. One side is blank. It was found in same vicinity as a 1723 Spanish 2 Reale, which may indicate just how old it could be.
So this is my theory and my theory alone - it was a coin being used before the 13 original Colonies had real money. I have no way of proving this but it
seems like it is possible. The who, what, where, why, and when? Ah there's the rub. Tell me what you think? But make sure to see the figure on
academia.edu
before you respond. Thanks for reading.