Got out today for an afternoon hunt. Went to a spot I've dug a few large cents in the fall. We've had snow, rain, snow, thaw type of weather here the last few days. The ground I was hunting was super damp.
I was mainly there trying to dig up some iron to get it out of the way in hopes to reveal a few more signals. Went away from the iron for a while to concentrate on any whisper/deep targets. I got a faint blip from the F75. Did a series of passes over the target and every two of three swipes I'd get a very quiet and quick jumpy high tone. I was able to hone in on it with a 4 way pass and I was able to pinpoint so I dug. After cutting the plug and taking a couple shovels out I stuck the probe in the hole and there was a target dead center of it. Right away I figured that was a good sign it wasn't falsing iron! One more scoop and my 10" shovel blade was well under the soil. The probe sounded off good and strong on what was an 1853 braided hair large cent. I let it get a little crusty and went over it gently with a toothpick. My shovel gave it a tiny kiss but hey, it happens. Not the first or the last!
This was my deepest copper to date and will be very memorable......and also eye opening! Was also able to eek out a few more signals that ended up being two musketballs and what looks to be a bale seal which makes the second one from this site. I got a feeling there's some old silver at the very edge of detection on this site.
Thanks for taking time to look and HH.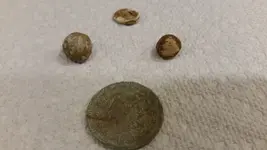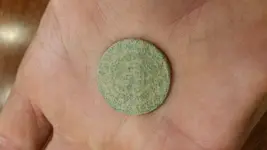 Edit: looking closer looks more like 1833. Beeped high like a braided hair but I can't tell for sure.....it's just a tad lacking on the details!
Last edited: