Jul 9, 2014
186
395
Detector(s) used

Garrett Ace 400, Garret Carrot, Recently retired Bounty Hunter Quicksilver
Primary Interest:

All Treasure Hunting
My town actually used to have a river ford so I was down on the river bank investigating. Not as trashy as I thought it would be. Decent signals.
Found a nice old padlock, branded with CHIEF. No other markings except a "1" on the shackle. Shackle actually opens and closes still. Amazing condition for being buried in mud by the river.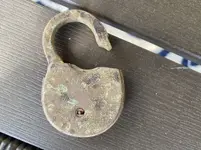 Found some silver on the river edge too. Appears to be a back of a watch, possibly vintage. Masters Sutton Sterling USA.