Silver Member

Dec 30, 2012
3,675
7,064
🏆 Honorable Mentions:
Detector(s) used

Presently using Deus's have Minelabs, Nokta's Tesoro's Have them all . Have WAY to many need to get rid of some
Primary Interest:

All Treasure Hunting
Coil size is 10 3/4 by 12 1/4 inch
I have had this detector for many years WITH OUT batteries in it I might add. I bought this detector for hunting Cannon Balls in Mississippi. I found three with it
I will ship to the USA for $410. Works perfect.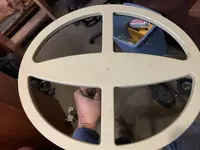 My old dog chewed the cable on the stock coil I no longer have it. It was chewed next to the coil
Last edited by a moderator: