The Treasure Hunter
Moore, Robin & Jennings, Howard
Englewood Cliffs: Prentice-Hall, Inc.
Copyright 1974
Hardcover, ix + 261 pages
ISBN 0-13-930529-7
6.5 x 9.25 inches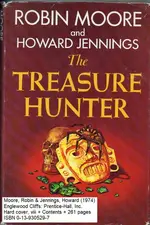 Essentially a story of Howard Jennings and his activity as a treasure hunter in the 1960s and early 1970s.
Although I enjoyed the stories about the search and recovery of Aztec and pirate relics, I did cringe when reading the portions about smuggling the artifacts through Customs into the United States. Near the end of the book, he justifies his conduct. He also describes other treasures waiting to be discovered.