Jan 27, 2020
352
591
Detector(s) used

Minelab Vanquish 540, Bounty Hunter Tracker IV, DR.OTEK MT-XR, Nokta Makro Simplex+, Bounty Hunter Discovery 3300, a GP Pointer Handheld Pinpointer, and a GUZI Waterproof Handheld Pinpointer.
Primary Interest:

All Treasure Hunting
My Bounty Hunter Tracker IV never ceases to amaze me.
One Ring (I'm not able to determine the Maker's Mark or even if there is one), a Quarter, a Dime (dropped one other) and two Copper Pennies - Spill, five Clad Pennies, and a Shear Pin.
The Stones are cloudy on the Ring so I'm certain they are CZ's or at least imitation.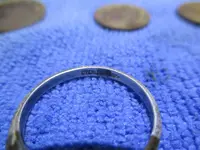 -DH-