Apr 20, 2011
888
522
Primary Interest:

All Treasure Hunting
i've rarely, if ever, posted in garage sales before, and quit posting my md finds a couple years ago, but with beachkid23, one of my favorite posters caring for his dad for the nonce, I thought it would be a nice tribute to post something now. I usually have nowhere near the same quality finds, but these 3 recent finds are quite a bit more interesting than my usual mundane change-makers. These items were all purchased at a recent rummage sale.
First I have a Thomas jeffreys map from a 1775 atlas.
A twin to this one is posted on this website for $475
. The sticker price on this framed print was $5.
View attachment 1459813
Next is an Alexander Calder print,
same as this listed one
. You may notice in my photo of it that the price tag for $1 is still attached, and that's what I paid for it.
The gallery listing of the comparable that I linked to above, made an error on the number of prints in the series, its not 100, but 50. Probably a template error by the gallery. I found
a listing for a different print in the same series
which correctly shows a 50 print run, represented on the print in roman numerals, as mine is.
A local auction house in Coral Gables,
Skinner Auctioneers
, has published the results of numerous auctions they've done for Calder prints. I'd guess from their results on other Calder prints that mine is worth anywhere from $800 to $1800. Mine has a scratch on the sun, and the $1 sticker price tag is still stuck to it. If it's worthwhile, I may have a local conservator I know fix the scratch and remove the tag.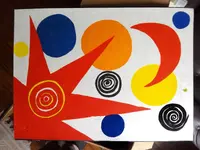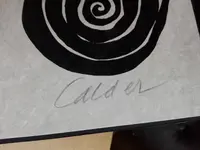 Last item from the rummage, is an Edward Muybridge print. With the print was a a letter from MOMA to a guy who had apparently returned the print to MOMA, informing him that the Carnegie Review had paid for the print, and so he was the owner, and they were sending it back to him. Apparently, the Museum of Modern Art had sent it to the Carnegie Review, probably for publication. Either it wasn't returned and the Carnegie Review had been billed for the loss, or the MOMA had sold it to them outright. At any rate, On the back of the print is a stamp that reads, "Please credit Museum of Modern Art film stills Archive".
The woman who priced everything for me just threw the print into my box as a freebie. I thanked her. MOMA is known to have all the plates from Animals in Motion, as well as from a smaller edition that is very rare. I'm guessing this print was made from a negative taken of an original plate. I do not know if MOMA has any original negatives, but I doubt they could have made this print from an original negative.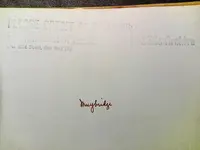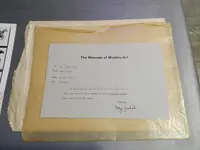 Last edited: