Mar 18, 2015
595
777
Detector(s) used

White's Coinmaster Pro, Tesoro Mojave, Garrett AT Pro, 5x8 DD, 15" NEL Attack, Garrett Pro-pointer, Pro Series 5x9 sand scoop, 30" Royal Compact sluice, 36" Bazooka Gold Trap, Gold Cube.
Primary Interest:

All Treasure Hunting
I have 26 of these beautiful buttons available. My stacking wants and desires change over the years so I am hoping these can find a loving home as they really are nice pieces.
From the Scottsdale site:
No two bars are cast alike and the deep stamped logo solidly imprints the Scottsdale Lion into the center of this beautiful piece of bullion. Silver buttons have their origins in the mining industry and this product represents Scottsdale Mint's homage to the made-and-crafted style of bullion. Product dimensions can differ slightly and this item is not perfectly round. It is the product of molten metal taken straight from the furnace and stamped with an indelible strike. It's not a coin. It's not a round. It's pure silver. Make the Scottsdale Silver Button part of your collection. 5 Troy Ounces Each.
I am selling these for $100.00 per each button. Buy 5 or more and shipping is free. United States only. Will ship next business day upon receipt of payment. Payment through Paypal FaF is ideal. Feel free to message me for any questions.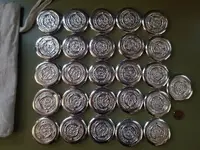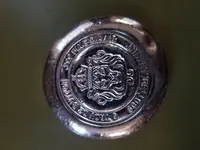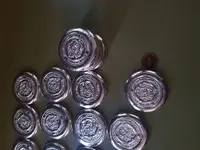 Thanks,
Jay