Jun 9, 2006
1,857
226
Detector(s) used

ace 250
Primary Interest:

All Treasure Hunting
ALBUQUERQUE, N.M. —A man born in the same month New Mexico became a state has died after a full life spanning more than 100 years.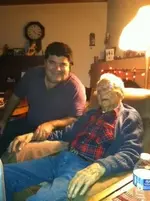 Tony Garcia, born in 1912, died Monday. He served in the U.S. Army from 1930-1937.
Garcia was known across the Southwest as a collector of rare Spanish Colonial artifacts made in the 18th and 19th centuries.
"I went into every village and town and looked almost house to house finding and buying the rarest and most historical Spanish Colonial artifacts I could find to provide for Casa San Ysidro and make it what it is today," he said in his book entitled "The Beginning of The Casa San Ysidro in Corrales, New Mexico."
Casa San Ysidro is a museum located in Albuquerque.
Garcia also gave rare books to a Smithsonian in Washington, D.C. He said though he could have made money from his artifacts and books, he wanted to do all he could to preserve Spanish art and history.
The Hispano Round Table of New Mexico said it was very proud and honored and to have Garcia at a 2012 Annual Tribute to Hispano Legislators Dinner as the military honoree. Garcia was given the Hispano Round Table of New Mexico Medal of Valor and Honor.
Garcia was a widower for many years.
Garcia's rosary will be held Feb. 16 at the Church of the Nativity on Fourth Street and Alameda. The time has yet to be determined.
The funeral services will be the following Monday at 9 a.m. at the same church.
Read more:
Veteran, Spanish colonial artifact collector dies | Albuquerque News - KOAT Home