Jan 31, 2015
3,753
9,038
🥇 Banner finds
Detector(s) used

Fisher F75
Primary Interest:

Metal Detecting
Got a late start this afternoon in getting back to the watershed but had one of my best hunts there today. I did go back to the cart path but soon left that to check open land. Two twenty-something targets about 20 feet apart turned out to be a 1919 wheat an then a 1901 IHC, consistent with known years of habitation.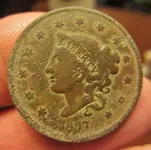 After that, the next hour brought lots of shotgun bases and centerfire brass. I looked at my phone at 4:44 and knew it was time to be heading out, so I made a
'beeline' for the hillside, swinging as I went. Nothing, until I crossed a footpath and went a little ways up the hillside only to come upon a high-pitched 31-34 on the Equinox and I thought, 'sounds like a large cent'. Well, the first coin I uncovered, pretty much right on the surface, was an 1843 seated quarter. I checked the immediate area with the pinpointer and uncovered an 1837 LC just a quarter-inch deep. These have been just laying there, undisturbed, for maybe the last 170 years, until I came along today with the Equinox. Perhaps you have a story of a similar surface find?

P.S. The quarter and large cent are the oldest 'coin spill' I've ever dug. This seated Liberty quarter is the third I've dug....first in Baltimore, second in Shrewsbury, PA and now this one from Baltimore County.

​