Apr 9, 2012
11,899
36,657
🥇 Banner finds
🏆 Honorable Mentions:
Detector(s) used

Garrett AT-MAX
Garrett AT-PRO,
Garrett Groundhog,
Pro-Pointer,

Jack Hammer!
Primary Interest:

All Treasure Hunting
I simply got sooo tired of the boredom, the rain and the reruns today that I went for a walk......*IN THE RAIN*!!!
Anyhoo...I was simply escaping my reality so, no plan, no method, just walking and swinging randomly. Trying not to think.
First hit? Greeted with this:
For some reason....you guys came right to mind! Did smile though.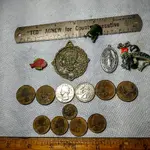 All in all, I'd call my trip a success. I was a mess after but found enough to almost enjoy myself. Haven't played in the mud for a very long time!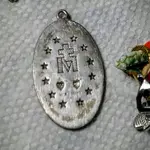 I figure the Mary medallion is silver. The markings were a bit strange to me though.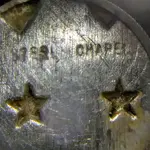 Best I could get.

Gotta luv it!
The back isn't much help. It mentions Disney, The Pirates League and made in China.

Anyhoo....
Thanks for taking time to peek!