May 21, 2013
911
501
Detector(s) used

Nokta/Macro Anfibio Multi / Nokta Fors Core /Ace 250 - w/ 9"x12" Coil /
Whites TRX Bullseye
Primary Interest:

All Treasure Hunting
White's MXT at a yard sale
Went Friday and Saturday looking for some deals.
Friday I see a White's MXT Tracker E sitting on a table......looked in new condition.
The first guy said it didn't work. Then the owner came up and said that only the display didn't work.
Ok...I can live with that if the machine works. Machine, White's Carry Bag and headphones for $40.
That buy made my whole day. I got it home and tested it in the yard and it works great.
I love yard sales...........They should rename the event to something like Treasure Sale!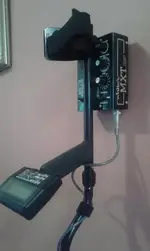 Last edited: