Administrator
Staff member

Jul 27, 2006
47,933
53,421
Detector(s) used

Minelab_Equinox_ 800 Minelab_CTX-3030 Minelab_Excal_1000 Minelab_Sovereign_GT Minelab_Safari Minelab_ETrac Whites_Beach_Hunter_ID Fisher_1235_X
Primary Interest:

All Treasure Hunting
Here it is, I found it again....
SOUTHEAST FLORIDA SITES:
INDIAN RIVER COUNTY SITES:
– North of the inlet is "Chuck's Steakhouse", also known as Half-Reale Beach, after the large numbers of Spanish 1715 cob coins found here! Evidently one of the 1715 Fleet galleons sank just off this beach, or this is the site where one of the captains went down after loading a keelboat full of salvaged treasure and trying to make it to St. Augustine, sinking and drowning just a mile north of the inlet in his overloaded boat. The general strategy here is to metal detect the beach in the area N. of the Bonsteel Park entrance. You should be aware that many people have thrown their finds back into the ocean, not understanding that the worthless piece of "scrap" they have found is actually a heavily encrusted silver cob coin.
-- at the end of CR. 510, this beach has been the site of many Spanish coin finds. The beach is heavily metal detected, but scuba with a metal detector, and your chances of being arrested go up by 100% as this is part of a federally protected area. If you have any questions on current status (and I'm not current) contact Taffi Abt at the email below "Beach Scatter . . . Coastline!"
SEAGRAPE BEACH TO TURTLE TRAIL BEACH l-- in this area a huge galleon apparently met her fate, because much treasure has been found on the beach. Ditto the above warning for scuba though.
BEACH SCATTER PATTERNS FOR WRECK-SITES ALONG SE COASTLINE!
The dotted areas are where most treasure is found.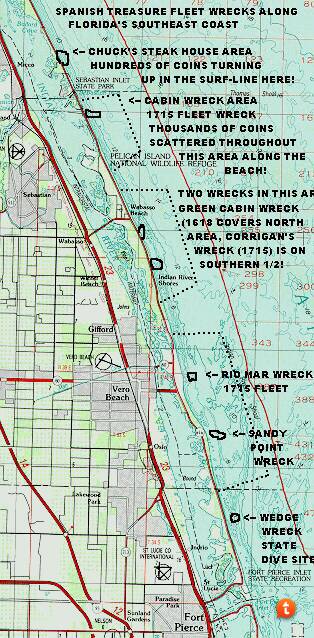 WITH THE EXCEPTION OF THE GREEN CABIN WRECK, THESE SITES ARE FROM THE 1715 GALLEON FLEET, DESTROYED BY A HURRICANE. MOST OF THESE SITES UNDER ACTIVE LEASE BY MEL FISHER, THOUGH THE SHORE CAN BE ACTIVELY METAL DETECTED! THE WRECKS ARE OPEN TO SPORT DIVERS, AND MANY LOBSTERS ARE FOUND IN THE WRECKS ALTHOUGH VISABILITY IS OFTEN LIMITED!
YOU MAY CHOOSE TO WORK THESE SITES UNDER A LEASE AGREEMENT WITH TREASURE SALVORS INC.-- in general, you pay $1000 for a lease that allows you to search the area from roughly a mile N of the Sebastian Inlet (Chuck's Steak House) to roughly a mile S. of the Ft. Pierce Inlet. Leases are for a 1 year period. THESE ARE SERIOUS LEASES! You are assigned a contractor's # which must be displayed on the sides and top of your boat (this area is patrolled by the Marine & Archeology dept.'s daily; furthermore, you must keep GPS logs of where treasure is found, tag artifacts, keep a daily ship's log, log any blowholes dug, etc. You must have a DGPS (differential global position system) unit to work the leases, and it must by tuned to the Canaveral DGPS station (freq. 289).
According to information released at the May 7, 1998 Salvors Inc. meeting, 20 boats contracted for the 1997 year, one dug 1900 holes, another dug 700 and found 450 artifacts in them.
for 1998 treasure leases are as follows:
ABBR SITE DATE LEASE AREA LATITUDE LONGITUDE
CAB CABIN 1715 81R23/S27 N27°*49.800 W80°25.549
ANC ANCHOR WRECK 1715 81R46/S23 N27°48.199 W80°*24.699
CAN CANNON WRECK* 1715+ 81R438/S23 N27°48.202 N27°*47.451
ROB ROBERT WRECK* 1821 81R47/S23 N27°47.451 N27°*46.708
SPR SPRING OF WHITBY 1824 81R28/S23 N27°47.479 W80°*23.629
GCB GREEN CABIN WRK*1618 81R22/S23 N27°45.280 N27°*44.247
COR CORRIGANS WRECK 1715 81R19/S25 N27°43.800 W80°*23.799
RIO RIO MAR WRECK 1715 81R27/S23 N27°36.300 W80°*20.899
SPT SANDY POINT WRK 1715 81R20/S23 N27°35.599 W80°*19.650
POW POWER PLANT WRK UNK. S25 N27°21.199 W80°*13.650
DB DOUGLAS BEACH WRK 1715 8SL17/S26 N27°*25.299 W80°*16.500
UNK UNKNOWN WRK UNK. S23 N27°*18.999 W80°*12.300
SUR SURVEY AREAS UNK NONE N/A N/A
*The Cannon, Robert, and Green Cabin wreck-sites are sites which are intermingled wrecks. The Cannon and Robert wrecks are located within the boundaries of the Anchor Wreck, so its co-ordinates may be used, and the co-ordinates given above are for the N/S boundaries. The Green Cabin wreck is located within the boundaries of the Corrigan's wreck-site. Use the Corrigan's wreck co-ordinates to locate the Green Cabin Wreck, the N/S boundaries of the enlarged site are given in the list above.
: contact Taffi Fisher at Treasure Salvors: phone 561-589-4944. Before diving, be smart, don't land in federal prison, and at least email Taffi at*
[email protected]
the current status. The hide you save may be your own! In my mind, the best way to do this seriously is to get in with one of the salvage crews and work, you'll learn a lot, and have something to tell the grandkids and maybe a lot to show them as well!
ST. LUCIE COUNTY SITES:
– a huge area where the 1715 Spanish Terra Firme Galleon Fleet Capatana is thought to have blown ashore, broken up, and scattered during a fierce hurricane. Millions of dollars worth of treasure finds have been made, with sites offshore still being actively worked under treasure leases by Treasure Salvors Inc. Most finds come at the second reef line offshore, but beach diving is a popular and lucrative way to look for treasure by the salvors, although visibility can be spotty, and sharks are a problem at the extreme northern area, near the Fort Pierce Inlet.
PALM BEACH COUNTY SITES:
-- on the south side of Jupiter inlet. Spanish treasure has been found here, along with much modern jewelry.
-- one only needs to read Steven Singer's Shipwrecks of Florida to understand the importance of this lighthouse. Multitudes of ships met their fate here, before the lighthouse was erected, and many after. Spanish coins from many eras are found on the beaches, suggesting that at least three entire fleets of galleons may rest in the shifting sands just offshore. A possible explanation of why so many ships met their fate here, is that the coastline bows outward to the NE, and then begins a gradual turn to the NW, meaning the early mariner clearing Cape Florida (Key Biscayne) with a compass course of N, would hit this prominence first. It is also interesting to note that the King of Ais (an early Indian Chief) set up shop at this location to plunder the treasure of shipwrecked Spaniards, of which he and his followers killed many.
-- a small beach here occasionally turns up early-American silver coins, though none in number. A hit or miss proposition.
-- much better than the Carlin Beach for producing early-American silver coins. There may well have been an empty ship that wrecked on the beach, in the 1800's, empty ships of the period carried specie (coins) to buy a cargo to sell. Buying and selling (or trading) a cargo could be much more lucrative than simply providing transportation services, and therefore, any ship that went down with an empty hold is a possible target for the coin-hunter of today.
-- with the ultra-rich and famous frolicking here, any piece of jewelry you find could be worth a literal fortune!
-- some nice jewelry finds have been made here, especially in the pier vicinity. Perhaps the fishing crowds lose their rings when casting for the big one, who knows? At any rate, a lot of has turned up in the shallow waters around the pier! The pier is directly off the end of Hwy. 802 in Lake Worth.
-- Spanish silver cob coins have been found here by beach metal detecting, but you, the underwater hunter don't have to wait for storms to beach dive for treasure. When diving the beach, a good strategy is to go out to where the beach meets some form of bottom structure, and detect along the natural treasure-trap where the two meet.
-- if you look at maps made by the early cartographers, you'll see why they gave this place its appropriate name. Boca was an important area for the Spanish, as it appears on all their charts from the earliest times, and is unusually well charted. Perhaps a fleet met its death here, giving the Spanish cartographers ample time to know the area well. One thing is for sure, RED REEF PARK is a good place to find a Spanish coin or two!
http://www.treasuresites.com/Members/sef.htm
Last edited: