Jul 9, 2014
186
401
Detector(s) used

Garrett Ace 400, Garret Carrot, Recently retired Bounty Hunter Quicksilver
Primary Interest:

All Treasure Hunting
Hit up two different places yeaterday. One was on an 1800s map but could easily be 18th C. The property is on a large tract of land I have permission to that has at least 5 old home sites, possibly more. A friend knew where to find it and took me to it, about a 20 minute 4 wheeler ride.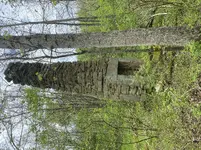 Didn't find much at site 1 yet but it did have a cellar hole that was already over grown. Will probably hit it this early spring or late fall when the copperheads aren't out and the brush dies off. I don't seem to find the good stuff until after a couple of trips.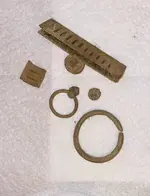 Found my first harmonica, at least the majority of the body. A harmonica reed and some nice rings (bronze or brass) appear to be bridal related. Will hit the site some more when I have time
Site 2 was back to the river. Found another spoon handle (extra coin silver plate on the handle)(prob 1830-1860s),lead suspender clip piece (i think), religious token, pocket watch piece, a great seal button (no back), some harmonica reeds, couple copper rings, and some more musket balls or cannister/case shot and buck shot. I don't have a caliper to measure the size properly.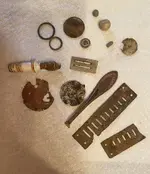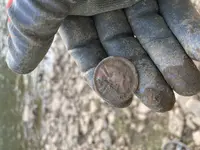 Last edited: