Hello all,,,
My buddy Gary called me today to go do some hunting. I haven't been getting out very much lately and he was wondering where I had been. So, he came on over and we headed to one of our local school lots. We hunted for about a half an hour and wasn't really doing all that well with only a few pieces of clad found between us. Just as I was getting my first good signal of the day he was on his way over to see if I wanted to go and try a different site. I said sure, but hold on a second, I got a pretty good sounding signal here at about 6" down. It turned out to be the 1925 Merc shown below. He said. "well, now you got my interest up", so we hunted there for about another half an hour with about the same luck as before. Just a few more pieces of clad. After that we headed to the "cache site" and I had forgotten about all the mosquito's that were there in the evenings and I got totally ate up by them. They didn't seem to bother him, so he had a pretty good laugh about that and told me I was luck they weren't "$%#*" eating flies or they would have probably finished me off... Ha,, ha... Gary is a riot, so weather we find anything or not, it's usually a good time none the less...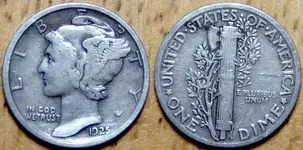 I also found my first St. Christopher pendant earlier in the week at a different school lot which was pretty cool. It's marked "STERLING R". Anyone know what the "R" represents?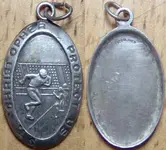 One more goodie I ran across was my first ever non-dug Indian head cent. (1902 ) I picked it up at a family fun center we went to on my nephews birthday. It cost me (200) tickets that I had won playing some of there games. They had quite a nice selection of coins to choose from so I'll probably have to hit that place again to see what else I can come up with...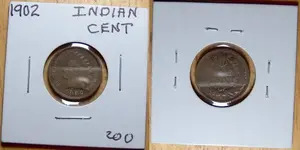 Hope you all are doing ok, and have had some luck...
Have a great day, Leon...