Apr 20, 2018
1,607
7,545
🏆 Honorable Mentions:
Detector(s) used

Fisher CZ-21, Minelab Excalibur,Garret AT Pro,
Primary Interest:

All Treasure Hunting
I went back to the festival grounds. They couldn't get enough workers for the festival this year so it was canceled. I had hoped that after the festival there would be a bunch of new losses to go with some of the older stuff in the ground, but I decided to give it a try anyway. I spent most of my time gridding part of the grass parking area and a little time wandering around near the adjacent ball fields.
I spent 5 hours swingin the CZ21 and found 101 coins with a face value of $6.68, a copper bullet jacket missing the lead, a ring, a mystery item, a copper rivet, can slaw, whole cans, bottle caps, tabs and some foil.
The ring is sterling with a black heart of some kind,not a stone or gem. It is a recent loss and was on top of the ground under the grass. When I got the high tone signal I parted the grass to use the Garrett carrot and there it was.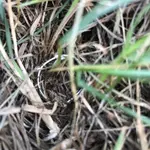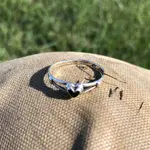 I dug a coin signal and a nickel sized item came out of the ground. I rubbed at it, but it did not come clean and it was not recognizable. I put in my pouch and went on. When I got home I rubbed at it again and thought I saw something under the crud. I chipped a little bit off with my finger nail and I could see it was a Jefferson nickel. It looked a little too shiny to be a regular nickel so I turned it over and chipped a little more and there was the S above the dome of Monticello. So I got out a tooth pick and worked a little more. It is a 1943 S. The S mint mark on a war nickel is an unusual find in these parts. So something that could have been a nonferrous electrical box knock out is actually a silver coin. Woo hoo.
Here are pictures after the first chipping.
Here it is after the second more thorough cleaning. It still needs more cleaning, but I now know what it is now. It might need electrolysis or andres pencils to finish the job.
So, nice fresh air exercise in the sunshine, with a nice silver hiding in the crud and a cute little silver ring. That makes a 2 silver day and that ain't bad for me. Thanks for looking, stay safe, good luck, and may your coil lead you to good things.