Gold Member

Mar 10, 2007
6,488
6,867
Detector(s) used

Whites TM 808, Whites GMT, Tesoro Lobo Super Traq, Fisher Gold Bug 2, Suction Dredges, Trommels, Gold Vacs, High Bankers, Fluid bed Gold Traps, Rock Crushers, Sluices, Dry Washers, Miller Tables, Rp4
Primary Interest:

All Treasure Hunting
I acquired this small pump years ago from my now deceased brother that I have never used and am not familiar with.
Just looking for some info. Probably has not been run for over 15 years. Are seals available?
How old is it?
What model was it called?
What would it's dollar value be?
What was it originally designed for? High banker? Small dredge?
Any info appreciated.
The intake port is 1-1/2" and the output is 1-1/4"
Its a 2 cycle Tecumseh engine
Thanks for looking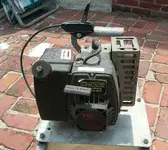 Go for the Gold
GG~
Last edited: