May 21, 2013
911
501
Detector(s) used

Nokta/Macro Anfibio Multi / Nokta Fors Core /Ace 250 - w/ 9"x12" Coil /
Whites TRX Bullseye
Primary Interest:

All Treasure Hunting
Hunted the beaches today and there were lots of the coquina rock washed up on the beach. I always scan them just in case there might be pirate treasure lodged in them.
The one I scanned today gave off a good signal. The anticipation was mounting as I looked all over the rock to see if part of what was there might be visible. Couldn't see anything on the surface so I knew I was going to have to bust this one up. Had to know what was inside! Got another rock and hit it hard. Then I took my pinpointer and located the mystery metal. To my surprise it was a pulltab. I am only guessing.....but I say it probably dates somewhere around 1600-1700. Anyone with more info is welcome to date it for me. I'm sure this is probably the oldest found on TNET..............please.....no banner votes on this one.

Also found a nice silver (925) necklace today...........looks like maybe a black opal stone in it.
P.S. Because of Florida Law on antiquities (anything over 50 years old) I placed the tab back into it's resting place and informed the proper authorities.
Happy hunting to all...............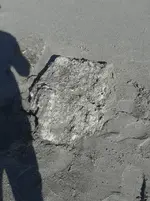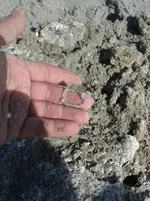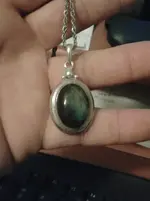 Last edited: