Dec 25, 2007
3,274
25
Detector(s) used

Tesoro.Fisher.Garrett
I just discovered this very interesting spot via a search for other interests.
This is the remains of the Bannerman Castle/Arsenal on Pollepel Island which was destroye by a mysterious fire many years ago.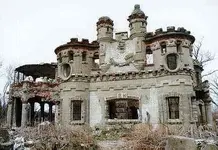 Francis Bannerman and his successors were surplus arms dealers for over 100 years.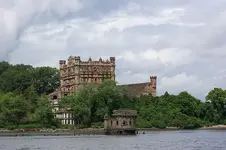 I'll patch together part of the story I have just read, from memory.
Details can be researched quite easily as they were quite wealthy, and their business in arms was quite significant for many, many years.
Francis Bannerman left Dundee, Scotland, around 1850 for the New York vicinity. He was involved in scrap and military salvage. When he went off to fight in the War of Northern Aggression, his son took over the business and began selling such scrap as purpose built items, rather than metal to be smelted.
Francis had been of the Clan MacDonald, dating back to the 1600's when most of the clan were slaughtered at Glencoe in 1692. The remainder of the Clan was slow to declare loyalty to the king and he decreed that a rival Clan, the Campbell's should wipe out the MacDonalds by killing all males from 12yrs old to 70.
A survivor escaped and fled into the highlands bearing the flag of the Clan, hence, the name of Bannerman.
Pollepel Island is just a few miles north of Cold Springs, NY, on the Hudson and is easily found on Google maps with a number of photographs, where I selected the ones included here.
There must be many others... it's a neato place!
The group of photos shows kayakers touring, but I know nothing about legality of access.
If I were anywhere near the vicinity, I would certainly learn more about it, as these were once wealthy, active, and productive people. A great place to metal detect! If legal.
Best
rmptr