So, I was lifting a box in my room, looking for some of my fossils that went missing during a move. The box broke on me and spilled. Turns out it wasn?t my box, the box did belong to my family, however.
While putting stuff back in a new box, I found this. And before I go any further, I am not trying to be religious or preachy at all.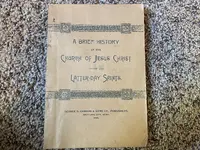 This book, was published sometime around 1893 or 1896. Here?s why.
It says in the last chapter which is titled ?From the death of President Young to the present time. 1877-1893.?
The authors preface is dated 1893.
One page simply says, ?Copyright applied for.?
There is NOTHING that says it?s a reprint.
This is an OLD book! How it got in my room, I have no idea. I showed it to my brother, and he said he got it a long time ago, but thought he lost it. I?m glad I found it!
It is going in a special spot for safe keeping, I just need to find a spot in my house for it!
Jared