Super Moderator
Staff member

Jan 6, 2006
20,846
2,530
🏆 Honorable Mentions:
Detector(s) used

Garrett AT Pro, Ace 250 & Ace 400
Primary Interest:

All Treasure Hunting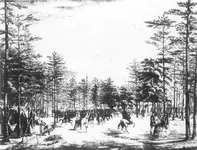 ​
Camp Moore was the largest Confederate training camp in Louisiana and the only Confederate training camp still open to the public. The above is a copy of a lithograph done by Adrian Persac in 1861 and is the only known image of Camp Moore during the war. In the background may be seen the New Orleans, Jackson and Great Northern Railroad. The garrison flag floats proudly above the parade ground in the center. Men are seen in various stages of drill in the center, in the parade ground. Along the left or south border may be seen rows of tents in typical company street style. Visitors are seen in the foreground, which was a very common sight at Camp Moore. Visitors flocked from New Orleans and other places to see their sons and husbands. It was a pleasant 4-hour train ride from New Orleans. Not quite visible in this picture would have been the sutlers, restaurants and photographer, located in the right distance of the tree line, along Beaver Creek. The orientation of this picture is taken looking west from the interior of Camp Moore looking across the parade ground.
http://www.campmoore.com/