Jun 4, 2010
13,373
8,674
Detector(s) used

Older blue Excal with full mods, Equinox 800.
Primary Interest:

All Treasure Hunting
Here's a cheap and easy display idea that I thought I'd share with you folks. I decided to display the southwest cache so I went to the local Goodwill & Mission stores in search of some deep shadowbox style frames, etc. I think I paid a total of $5 for both of these, then it just took some 1" foam, some cardboard, a little wire, some heavy felt, a razor blade to cut the slots in the foam, and some spray adhesive. These will hang on my wall now.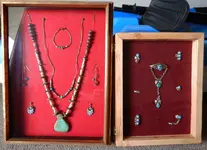 Be doing more of these now, for sure!