Nov 26, 2019
1
1
Primary Interest:

All Treasure Hunting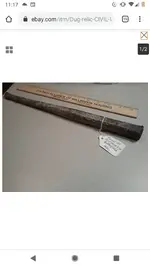 Trying to find Civil War relics for my nephew, and came across this listing on
eBay
, which is purportedly a tent stake dug from the Antietam battlefield.
I have a few concerns, not the least of which is that Antietam is misspelled on the tag and the listing. I know most CW tent stakes were wood, so I don't think that's what this is.
Any ideas? Horse picket? Railroad spike? Property grid marker?
UPDATE: Thank you for your input. Does anyone know of a reputable source for dug CW relics?
Last edited: