Apr 20, 2018
1,733
8,714
🏆 Honorable Mentions:
Detector(s) used

Fisher CZ-21, Minelab Equinix 800, ,Garret AT Pro,
Primary Interest:

All Treasure Hunting
I found a 1984 class ring back in October. I called the high school and they said they would check on who might own it and get back to me but they never called me back. So recently I went online and tried to track the owner. I have found how to get year books online and it has really made the process of returning rings easier. So I found the yearbook for that year and found the young lady's name who owned the ring. I checked that name and the city where the school is located which is in West Virginia across the river from where I live. I found some people with the same last name, one that I believe may have been her mother and it had a list of phone numbers and also listed relatives. Today I started calling those numbers and one of the relatives was her first name with a different last name so I was presuming that maybe she had gotten married. I went ahead and tried the phone numbers for this lady who I thought was her mother. They were all disconnected or the people who answered were not who I was looking for so I looked at another person with the same last name. I tried the list of phone numbers for that relative and I the same results, either wrong number or disconnected so I finally decided to looked up the young lady's name with her presumed married name online and found someone who is 53 years old with the same middle initial that was in the class ring. I figured that might be it and I was right. When I called it was the right class, the right year, the right school and she knew where I found the ring. It turns out her boyfriend had lost it playing football on a church picnic area field. At the time they looked and looked and couldn't find it. It was lost in 1985 so the ring has been In the ground for over 34 years. I arranged to meet her today so I could return her ring after she got off work.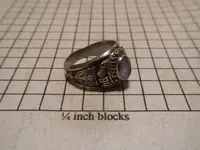 ​
Here she is with her ring. She was surprised I found the ring and really glad to get it back as you can see.
​
I am really on a roll. That is the third class ring I have been able to return this week. Finding a web site where you can view a wide range of high school yearbooks has been a great help. Now I have to go back through some of the rings I wrote off a long time ago because the school could not provide a name for the owner. Maybe I will have some more luck. The last ring in the current batch is actually a post high school technical school ring. I recently called the school for the second time and was promised some info soon. This school has branches all over the country(23 at present count) so I need to see which location he graduated from so I know where to start my search.
3 rings returned in 5 days and all 3 were found on football fields. One lost by a coach and 2 lost by boys wearing their girl's ring. I am a happy camper. Finding a class ring that has the initials or a name and a school I can locate makes me feel opligated to do just that. When I can't it really bothers me so this week has been great in my book. Three class rings found in the past 4 months and all 3 returned. All 3 offered to pay me, but I refused because it is not about the money, it is about doing the right thing. Thanks for looking and may your coil lead you to good things.