Jan 2, 2006
6,709
7,425
Detector(s) used

Minelab SD2200D (Modded)/ Whites GMT 24k / Fisher FX-3 / Fisher Gold Bug II / Fisher Gemini / Schiebel MIMID / Falcon MD-20
Primary Interest:

All Treasure Hunting
Many of you might not know the story behind this name CLAUDE SUDDRETH. This is Claude Suddreth Jr:
Claude Suddreth Sr. was the man that showed Oren Swearingen where the Cave of Steps was in the San Andres Mountains. Here is a picture Oren took of one of the party at the cave entrance: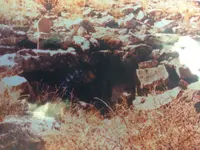 For those that don't know it already,. I will tell some of the true story of the "Cave of Steps";
The family of Osborn Hiles had a small goat/sheep ranch in the San Andres Mountains. It seems a mountain lion made off with a lamb, and Osborn's Dad told him to hunt down the lion and kill it. Osborn tracked the lion to a certain place (NOT on Hardscrabble Peak). There, he found a small cave opening (about 2 feet tall by 6 feet wide). When he entered the cave, he could smell that unmistakable smell of a large mammal. There was a step down from the small entrance, which made it so a person could stand up in the cave. Off on one side was what appeared to be a precariously balanced stack of large rocks that appeared to be a booby trap. Beyond that, he saw steps that looked man made going down further than he could see. He didn't want to hang around the cave without a light, because the mountain lion was still in there somewhere.
In the early 1960s, Osborn Hiles showed Claude Suddreth Sr the cave. So far, everybody that has gone into that cave has carved their initials and date into one wall of the cave. Long story short, In 1982, Suddreth showed the cave to Oren Swearingen and his son (who put their initials on the wall). Still, nobody to my knowledge has been further down than forty or fifty stairs.
While researching the story, I managed to find a Claude Suddreth Jr. This was Claude Sr's son. He remembered well the activities around that cave. He hadn't been back to it since when they showed it to Oren and his son. I told Claude about wanting to go down those steps because Oren asked me to, and I offered that if anything valuable was found, I would like to split everything between the Suddreths, the Swearingens, and myself. I hadn't corresponded with Claude Jr for several months, but the last time I did, his widow responded to my email. Claude had told me that he had a kidney problem and needed a transplant. Guess that transplant didn't come quickly enough. Claude Suddreth passed away on 08 January of this year (2015).
A name that few people outside the story have ever heard, but played a part in a story that still hasn't played out yet. Everybody please say a prayer for Claude and his family.
Thanks - Mike
Last edited: