Dec 12, 2014
489
1,306
Detector(s) used

Garrett , Whites
keene puffer drywasher , Keene A51 Sluice
Primary Interest:

Other
I picked up just the stand and Blue Wheel of a Desert Fox Gold panning wheel at a yard sale last fall and this has
been my winter project. On my 1st run it did not catch all so I added some weather stripping to hold the material in longer and not as easy for it to escape.
Ran a small amount of Drywasher cons in it today after some mods and I think I got if set as it caught all the Gold
not one speck in the safety pan.
I was skeptical of the thing as first but now I'm impressed.
I'm not going to give up panning as I love doing it but I think we all like equipment.
Cheers Mike
Here's what it caught.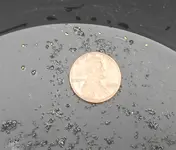 Here's the wheel with the weather stripping.