Apr 29, 2012
2,468
3,196
🥇 Banner finds
🏆 Honorable Mentions:
Detector(s) used

Love to treasure hunt
Primary Interest:

All Treasure Hunting
Hello all,
Today I was with a friend from the metal detecting club in western Washington. We hunted a old torn down neighborhood site that has been overgrown, but I have scored goodies at before. My 12 Canadian silver half dime spill was nearby, as well as v nickels and a sharp barber dime.
Anyways, my pouch was full of beer cans cans and a few bits of sparse modern coinage when I was over my prime target. It didn't sound awesome, like you hope it would, more like a large pop can target bouncing really high, 34 ish on the equinox. I dug down, pin pointer said it was close. Hand in the hole. Grab the large black caked disk. Quickly thought 'maybe'. Flipped her around, and saw the eagle on reverse, and instantly knew.
I threw down my gear and ran and grabbed my friend. I was quite happy, and we took some pics, and I shared the new experience swing by swing with him. I did a check on the online red book and saw the 1879 is a great coin if it's a CC. I thought 'no way' and we chuckled at the idea. He had found a few nice bottles and a pocket watch back during his time.
I popped the coin in a special pocket and swung for a hour or so longer. I wanted to get some water on the dollar and look for a mint mark back at the car, so we waddled slowly back and finished our hunt. The water came out quick, and we had a loup. I saw it immediately. But I couldn't know if it extra wreath making the other c or o shaped blob. Surly two blobs in the correct local meant a CC! I referenced some high res CC photos to confirm and gave a hoot of joy!
I plan on getting it into a ultra sonic cleaner to get the junk off, and then we'll see how she stands. Thanks everyone!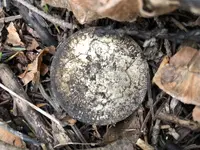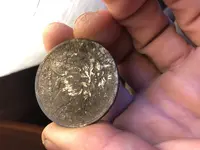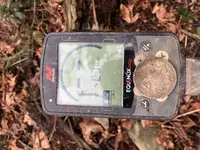 Last edited: