Hello all,,,
Hope you all are doing ok. It's been awhile since I've posted any finds. I haven't been getting out much and when I did it was usually over to the cache site which is nearby. I have really cleaned that place out over the last few years and I'm not finding much of any thing there so... I went to hit a local school yard yesterday, just for a change of pace, and managed to find my first class ring. It's not much to look at as it has been crushed pretty good but at least it's gold.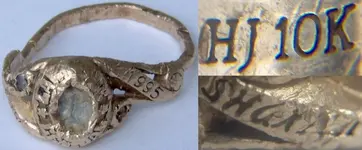 It has a the name of a school, as well as someone else name, I think.. It got pretty well torn up in all the wrong place... I think it's from Lawrence Central High School and the name on it is Shanon but it's really hard to make out most of it... Only markings I can read well
are the "Hj 10k on the inside and " 1995". It has a small stone off to one side but the center stone is missing. I sifted through the dirt for a few to try and find it with no such luck...
Also recovered a total of 49 cents then ran across another small blip of a "Foil" signal like the ring was giving me and broke yet another digging knife over a piece of foil.



I think I might have to brake down and get me a Leshe. I'm simply way to hard on diggers...
The knife in the photo was already a backup I was using because of the last digger I had broken... This one was knife No. 4

Anyway,, it was good to get back out and actually find something other than square nails and pop tops.
Hope you all have had some luck and happy hunting~ Leon...
Oops also found a large, aluminum, hoop style earring...