Mar 18, 2015
595
777
Detector(s) used

White's Coinmaster Pro, Tesoro Mojave, Garrett AT Pro, 5x8 DD, 15" NEL Attack, Garrett Pro-pointer, Pro Series 5x9 sand scoop, 30" Royal Compact sluice, 36" Bazooka Gold Trap, Gold Cube.
Primary Interest:

All Treasure Hunting
$200 per roll of quarters, $105 per roll of dimes.
Rolls of quarters should be 250g total weight. These are slightly under, as written on the wrappers, but I'll throw in extra to make up for it. Same with the dimes (125g), which I haven't wrapped yet.
Buy 3 or more, mixed or matched, and shipping is free. PM for any questions. Payment with paypal FaF preferred.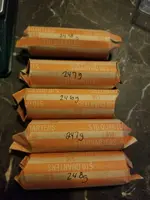 Thanks,
Jay
Last edited: