Apr 9, 2012
11,333
32,064
🥇 Banner finds
🏆 Honorable Mentions:
Detector(s) used

Garrett AT-MAX
Garrett AT-PRO,
Garrett Groundhog,
Pro-Pointer,

Jack Hammer!
Primary Interest:

All Treasure Hunting
Hello folks, if any remember, I found an 1812
Half Dollar back quite a while ago.
Back then I really couldn't post up very
good pictures. Since this is a particularly
special coin, most will know the possibilities
if they look it up. I felt badly that I couldn't
post better pics on the Today's Finds forum.
(My banner post), back then.
There were quite a few who wanted to "dissect"
this coin to determine if it might be "extra
special".

So, for those who enjoy figuring out old coins
and for those who find themselves inundated by
this horrible, extended winter. I thought I'd
get the coin out of the bank box and have it
pose for a couple more, (hopefully better), pics.
(I'd already taken it out for my occasional
drooling purposes anyway. LOL )
So, here's a few more for you coin aficionados
and stymied TH-ers!
Have at it!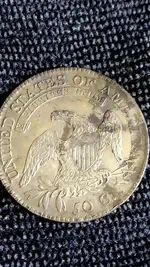 Note: I do have a bit more capability for close ups
now so if there's some part anyone wants me to
try capturing, just say so.
Thanks and have fun!