May 21, 2013
911
501
Detector(s) used

Nokta/Macro Anfibio Multi / Nokta Fors Core /Ace 250 - w/ 9"x12" Coil /
Whites TRX Bullseye
Primary Interest:

All Treasure Hunting
Got a google map of a local beach last night and dowsed it. I came up with 2 areas on the map that I wanted to go hunt today.
My particular dowsing was for gold rings. I got to the beach and started with the first red circle on the south side of the map. Didn't find any gold in that area.
I figured maybe the gold was too deep or I had perhaps missed them.....or maybe there wasn't any rings there. I continued to hunt up the beach with my CZ-20
toward the northern area that I had marked on the map. It wasn't very long after I reached the area I turned up the first ring. The 10K wedding band with little diamonds in it.
I searched around the same hole and bingo....found the other part of the wedding band set. I was really thinking this was a good day....can it get better? I started working my way further north and about 20' away from where I found the others....I pulled up the yellow gold band. This one just outside the area that I had marked on the map. That's close enough for me to be a believer. I had only tried this one other time on a soccer field. I dowsed that area using a google earth map and found 5 rings in one hole....only one of them being gold. That being my first time doing it....I didn't post it as being a dowsing find. I'm starting to like this map dowsing thing. I told my son about it...and the first thing he said was...Dad....is that witchcraft? lol I really don't think so.....to me it feels like being able to connect even over long distances with the energy field that is there when these metals are present. It's like being in-tune with unseen physical forces. I know that I am opening myself up to all sorts of non-believers......but hey....I knew where I wanted to go on the wide open beach today...and I came home with what I was looking for. May the force be with you all..........lol
* The green squares are where I found the rings...........
The results: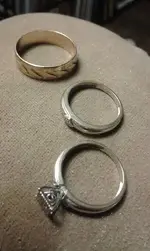 Last edited: