Gold Member

Jun 12, 2006
18,068
9,519
🥇 Banner finds
🏆 Honorable Mentions:
Detector(s) used

Fisher F75, Whites DualField PI, Fisher 1266-X and Tesoro Silver uMax
Primary Interest:

All Treasure Hunting
Hello All,
I returned a High School Class ring a while back. Dug at the beach in Texas this summer and it took a while to track down the owner.
Here it was in a photo with my haul of goodies from the beach: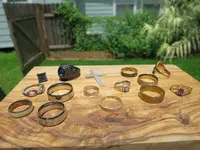 And on the way to return it:
The kid who lost it is a graduating senior this spring. I actually had business in the area where he lived and so I made an appointment to return the ring to him and his family. He didn't seem too excited but just said "thanks." No photo with the happy owner, or his parents. Was waiting to post, hoping his parents might reach out to me with at least a thank you note afterward. (I left my mailing address with them and told them "No Reward--just a kind note.") No note came.

I've returned many rings over the past 27 years, and I've had a real mixed bag of experiences--everything from offering of cash rewards (always declined) to semi-accusations "where did you get that?"). I've been told many wonderful back stories of how rings were lost, and where, and when. (Which is so nice, since we detectorists seldom get to know how the items we found were lost.) I've returned rings to the owners who thanked me with tears in their eyes. I've also returned some rings to owners who didn't seem to care at all, including a wedding band to a man who had remarried and who laughed in my face: "From my first wife?! That's hilarious!"
Yes, it's been a mixed bag on ring returns. But it's important never to sacrifice your own sense of right and wrong or lower your standards, no matter what your last experience was. Just like detecting, we don't hang up our detectors because of one bad experience in the field, or one hunt where we got skunked.
The benefits are always greater than the losses in the long run if you stick to the high road.
Wishing all of you happy and safe 2018,
Buck