Hello all,,,
I put up a bird feeder last summer right after Punky passed away, but I didn't think it would draw in any of these...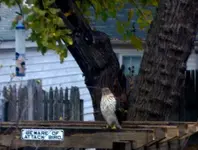 I don't think his feet are going to fit on those small perches...

I live pretty close to the center of town here and we used to hardly ever see any wild life, other than your normal birds, robins, cardinals, finches, pigeons, and maybe a bluejay here and there, but within the last few years I keep seeing the big hawks hanging around. He was even sitting on top the car for few checking things out...