Dec 14, 2017
1,593
3,484
🏆 Honorable Mentions:
Detector(s) used

Nokta Makro Simplex+, Garrett ACE 300, Carrot
Primary Interest:

Metal Detecting
I hit a new site today that I think dates back to the 1830s at the very latest. I was looking at the 1850s map ahead of time but it was terribly inaccurate... I could line it up with certain roads but then others wouldn't line up, this property was pretty big though so no matter which roads were actually correct on the map the site should still be
somewhere
on the land so I just said what the heck and started hunting. I started out at a hill and as it turns out I immediately began hearing the low buzzes of iron in the ground. After that I started finding some buttons, and then the 1850 large cent! At this point my day was made as it's the purtiest one I've ever dug but after a few more buttons I found another large cent, then another... and then another! I was hoping I might pop out a half cent or real but five large cents is a new record for me and I'll take it! Oh, and one of the matrons is dated 1817 which is my oldest coin other than a cash coin I found last summer!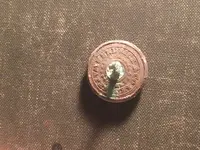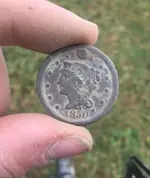 Happy hunting and thanks for letting me share these with yall! I have a good feeling about this year...