May 21, 2013
911
501
Detector(s) used

Nokta/Macro Anfibio Multi / Nokta Fors Core /Ace 250 - w/ 9"x12" Coil /
Whites TRX Bullseye
Primary Interest:

All Treasure Hunting
Picked this up at a yard sale this morning. Lady said it had belonged to her father-in-law and she didn't know anything about it.
I could see that it was hand made from some type of skin. Leather strap still has hair on it. Handle is also skin covered.
Someone had sharpened it...cuts paper easily. Anyone know how to find out it's origin? I'll be searching the net for any info I can find.
The blade has only one little marking on it...see pic. Knife measures 20-1/2" total length....handle is 5-1/2"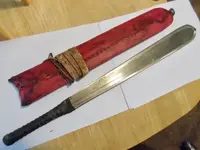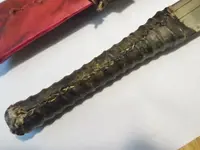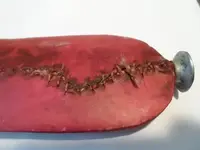 Last edited: