Dec 14, 2017
1,593
3,484
🏆 Honorable Mentions:
Detector(s) used

Nokta Makro Simplex+, Garrett ACE 300, Carrot
Primary Interest:

Metal Detecting
I'm not sure how many of you saw my last post but I went to see the LO today... I wanted to show her my finds from Monday and ask if I could bring a hunting partner on Saturday. She was super happy I wanted to show her and we chatted for a little while, I decided to hunt in their field for the last 35 minutes before sunset and it was sooo worth it! I dug a few neat relics, two wheaties, and best of all, a two-cent piece! Before today a two-center hadn't even been on my radar, when I popped the hole I wasn't sure if it was a button or some sort of coin, I thought maybe it could be a half c or a two and I gave it a little bit of a rub until I saw the two. My third bucketlist coin this week! How would you guys suggest I clean her up? I toothpicked away a little bit on one side, do you think this is the best method? Thanks for looking and happy hunting! Just wait until Saturday... me and my uncle are going to spend a good portion of the afternoon/evening digging at this place.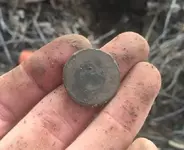 Last edited: