Apr 9, 2012
11,533
33,397
🥇 Banner finds
🏆 Honorable Mentions:
Detector(s) used

Garrett AT-MAX
Garrett AT-PRO,
Garrett Groundhog,
Pro-Pointer,

Jack Hammer!
Primary Interest:

All Treasure Hunting
After 3 four hour walks/stumbles in a cornfield and your finds are similar to these: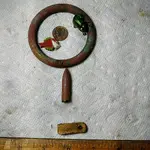 When I walk I'm always looking for points, but this ain't what I wanted.

Then, I figured at least I found a solid brass ring. Just about a quarter pound!
But, I noticed another wrinkle when I got home. What the heck is that lil screw the arrowhead is pointing at!?

The following is just an update on the SLQ I found a bit ago. I did clean it up a bit. But I tried a technique I found here on T'net. I gotta say, I was a bit pleasantly surprised by the results.
Here's the rubbing, what do you think?
Thanks for peeking!