Apr 18, 2013
1,514
2,613
Detector(s) used

AT MAX & Carrot, Nokta Pulse Dice (:
Primary Interest:

All Treasure Hunting
Let me start out by saying I never thought I'd get to share this story.
It starts the week before hurricane Dorian in August of 2019. I posted about finding a San Miguel horse buckle in this thread.
http://www.treasurenet.com/forums/today-s-finds/614473-san-miguel-style-brass-buckle-ca-1700-1750-a.html
(All my images were lost right after Dorian when my phone crashed. I had to do a complete reboot, including re-loading apps, and all images taken in the week leading up to Dorian's landfall here were gone from my phone.


)
This thread is about that sliver of time between finding that buckle and losing my images during Dorian.
After finding the buckle and posting it here I went back two days later to check on the land clearing (they had given me permission originally) since that was what enabled me to find the buckle. I started in the same vicinity where I found the buckle and didn't have any hits. As I looked around I noticed that the dozer had pushed the dirt towards a certain direction. As I followed the dozer trail I had a hit in the nickel range about 6" down in the sand. Whatever it was kept slipping through my fingers time and again. Finally, after about 5 minutes, I see this.
I start grinning out of happiness and laughing at myself for taking so long to locate it in the sand. Spanish silver!!
Finally!!
In. My. Hand. (Mind you I'd only been detecting for about 16 months at that point. But hey, Americans are an impatient lot and the Kings silver is suppose to litter the beaches here.

)
Well, I checked the hole and got another hit. Same numbers and it only took about three handfuls to locate this one. All told I found four half-reales and a single 1-reale in about 15 minutes of digging with in a 2'x2' area. I think they had been in the vicinity of the buckle but got moved away by the dozer.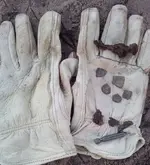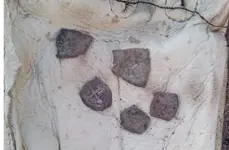 There are some really nice details on some of them for being so small, but no date and I can't recall if I found the assayers mark.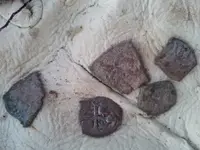 One reale-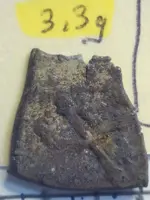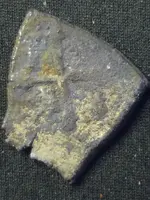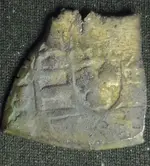 Half Reales-
-A- 1.3 grams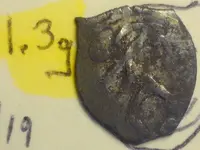 -B- 1.7 grams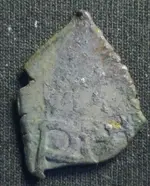 -C- 1.2 grams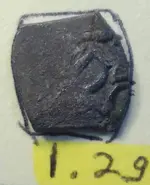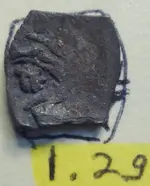 -D- 1.9 grams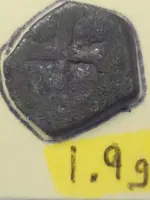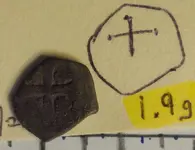 Found at the same time in a trash/burn pit not far away there was also some lead pieces, a nail,
some glass,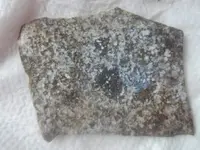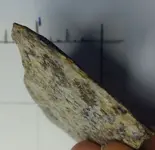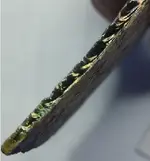 and a decent sized white pottery shard w/handle (with a splash of lite blue). Unfortunately no images of the pottery made it into the online album.
(Turns out I created an album after taking the images and emailed myself a link to the album before Dorian hit. I was going through the painful task last night of thinning out 4000 emails I hadn't thrown away. I was saving any images or links to images when I spotted a link from 2018 with these images.
(See kids, it pays to be careful when you take out the trash!!

)
Here's a few more scraps of "stuff" I found that were in the album also from the salvors burn pit.
A copper "droplet" stuck to an iron piece.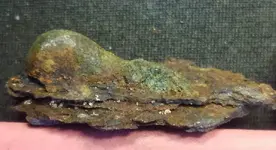 And this piece (Pewter?) that has concentric lines on it and maybe some gilt?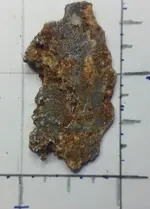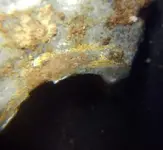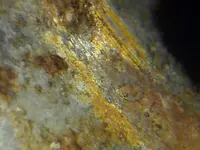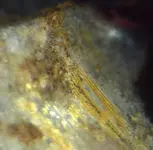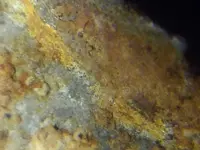 Thanks for looking and hope I haven't gone on too long but I'm so excited to have the chance to share this with everyone, even if it's two years late. (That's a long time, even for me!

)