Jan 3, 2012
17,130
19,833
🥇 Banner finds
🏆 Honorable Mentions:
Detector(s) used

WHITE'S XLT, PI PRO, GARRETT 2500, 3- FISHER CZ21s, JW FISHER 8X
Primary Interest:

All Treasure Hunting
just got back from short trip to Jamaica
2nd day there - my gal and I drove to one of the tourist towns at one of the cruise ports
I hit a popular tourist beach - after hitting one small section and only coming up with a silver ring and a few junkers ...
I decided to move farther down towards one of the resorts. while walking around an area where there were boats for hire -
this gentleman with brochures in his hands approaches me and starts yelling "Sir...sir!"
Now I have my headphones on and I just want to get back in the water - he says he wants to ask me something .
Instead of trying to sell me something ...he asks if I can find his "married ring" which is what they call their wedding bands
I ask suspiciously where he lost it and he says down farther in the water
Now I'm thinking he heard about a tourist loss and he knows around where it is and he is going to claims it
When I asked him to describe it - he was very vague
After walking about 200 yrds ...we arrive at the spot - he tells me its about waist deep and there is a large rock he placed where he thought he dropped it
I jump in and I find the rock - problem is there are 2 locals snorkeling all around it - so I cant really swing
Now he did not tell me who these guys were ,but they supposedly know him and have been fanning for it the last 2 days
I guess he had told bunch of the locals hanging round or it spread like wild fire
BUT - they aren't looking for it for him --the old rule "finders keepers - losers weepers" applies here
If they were to find it - they would either just take off and sell it or they would offer him to buy it back
I go around the rock (hunk of coral actually) -nothing
I spread out from it and get a good blast - I think I got it - the 2 snorkelers see me getting ready to scoop and move in
turned out to be a recently lost coin - move out deeper - get another blast -- they move in again - I scoop and come up with a huge earing
I tell them - show them - "its a big earing" - one tells the other -"earing" - the word ring is heard and everyone perks up on shore
I tell him its a junk earing and he tells everyone - "its just an earing!"
I get a couple of bottle caps -and show them s they don't think I have anything to hide
They start drifting away from me - I move in shallow in front of the rock and get another surface like blast and know this could be it
I click from all metal to ID mode and get high tone (which on CZ21 is good tone) I wait till both guys turn away from me
I scoop just a few inches off the top and see gold band slide down - they turn towards me and I say -"another bottle cap "
I leave it in my scoop and drift out a little deeper - when I see them both turn away - I quickly reach in and put it on my finger
I know if I show these guys - there's a good chance they are going to try and get it from me and claim reward or just run off
I keep hunting around and start heading away from them - but I know I have to produce the goods - so I get in the shallows and
take it off and make like I pulled from scoop - one comes running over as I hold the "precious" between my thumb and index finger
as he approaches - he has his gaze focused on the prize - not even looking at me - I then placed it back on my finger - the smile disappears from his face
He yells to the other guy still face down - and then #####es to him - "It wasn't near that rock"
I then exit the water - looking for the owner - a guy on the beach asks if I found it - "Yes I did"
he says Lesga -the owner - is sitting under a palm with others around the corner - him yells - "He found it!"
I ask Lesga - what is marked inside - and he says his name and I hand it to him and it fit like a glove
Others in the crowd ask "you are just going to give it to him?" "You are not even going to ask for a reward?"
I tell them "No...I return stuff all the time and never take a reward" -of course they think Im crazy
I see others are amazed that I found it and that others are #####ed - others had been trying to find it also
some are mumbling - one guy walks by me and says one of the guys looking for it was going to buy a used car if he found it
The owner asks if he can buy me and my family lunch - I told him that a handshake was good enough - but if he ended up back down
the other end of the beach - I'd love a pic of me returning it - I did not think I'd see him again but later on when I decided to call it
quits - he showed up and I got a few pics
he had my girlfriend take some with his phone for him too ...seems he lost it a week ago and he and his wife were having a rocky time already
She thinks he sold it or traded it and was going to throw him out of the house --so he wanted a pic of the "great white hunter" to prove that
he did in fact lose it and needed pic as proof --so it was all good
I confirmed all of the story with a guide named Charlie that we were talking to on the beach that has known Lesga for years
I did not get any other gold that day - but not to long after the return - I did find a large and heavy silver chain with cross and 2 silver bracelets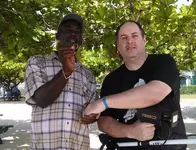 Last edited by a moderator: